The Isagenix weight loss and wellness system contains a wide variety of highly nutritious products capable of being enjoyed in oh so many ways. From countless varieties of healthy and delicious shakes to full blown meals that satisfy the taste buds and satiate hunger, there are endless meal options with Isagenix. If you're looking for new ideas for your much deserved Shake Day meal, here's a look at five delicious 400-600 calorie recipes that are sure to make your palate smile!
Recipes Featuring Isagenix
1.) Enchiladas Verdes con Isagenix Greens!
Lighter than the traditional green enchiladas typically served at restaurants throughout Mexico and the US, this light yet delicious version of enchiladas verdes features poached chicken breasts, fluffy white corn tortillas, and just the right amount of queso fresco to make it incredibly satisfying without weighing you down.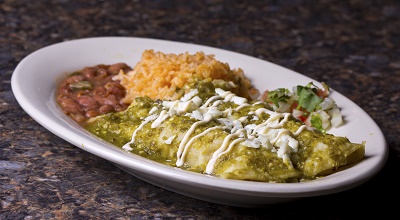 Ingredients:
• Two boneless, skinless chicken breasts
• One onion, chopped
• Four grams kosher salt
• 18 medium white corn tortillas
• 600 grams salsa verde (homemade or jarred)
• 40 grams Isagenix Greens
• 200 grams crumbled queso fresco
• Sour cream (optional)
• Cilantro to garnish
Directions:
Start by preheating the oven to 200C. Add the chicken breasts and half of an onion into a stock pot. Then, add a pinch of salt, cover the breasts with water, and bring to a boil. Simmer for approximately 20 minutes or until fully cooked.
When cooked, removed the chicken from the pot and let cool until it's cool enough for you to comfortably shred it. After shredding the chicken, finely chop the rest of the onion and mix it into the shredded chicken along with a little salt and pepper to taste.
Now, here comes the fun part. Place six of the corn tortillas on a plate and microwave them for 30 seconds or so to make them pliable and easy to work with. Then, it's time to get your roll on by rolling each enchilada one by one.
To do so, simply dip each tortilla in salsa verde (green salsa) and scoop two large spoonfuls of the chicken mixture into a tortilla. Then, roll it tightly and place it in a glass casserole dish. Simply repeat the process, making a single layer until you've used up the remaining chicken and tortillas.
Lastly, whisk the Isagenix Greens into the salsa verde for a healthy kick and pour the sauce over the top of the enchiladas. Sprinkle on some queso fresco, cover, and bake in the oven for approximately 30 minutes.
After removing them from the oven, you can even add dollops of sour cream and sprinkle on some more queso fresco. Not bad for only 210 calories per serving!
2.) High-Protein Isagenix Belgian Breakfast Waffles
In need of a healthy and delicious dose of protein to kick start your day? If so, these tasty waffles are sure to do the trick. If you have a waffle iron, you'll have no troubles whipping these up in no time. You can even prepare the batter ahead of time, so in the morning all you have to do is pour and bite!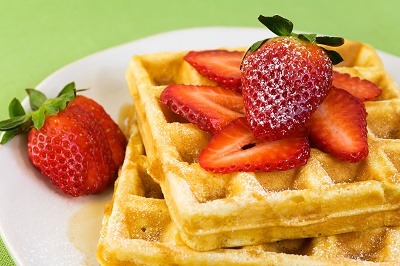 Ingredients:
• Two scoops Isagenix IsaLean French Vanilla
• 220 grams almond flour
• 80 grams rolled oats
• Two egg whites
• Dash of cinnamon
• Water
Directions:
Begin by preheating your waffle iron and spraying it with non-stick cooking spray. In a blender or food processor, pulse the rolled oats for a fine consistency. Then, mix the oats and the rest of the dry ingredients in a medium-sized bowl.
When the dry ingredients are nicely mixed, add the egg whites into the dry mixture one at a time and pour in 150-220mL of water until the batter achieves the ideal consistency. When ready, pour the batter into the preheated waffle iron and cook for about three minutes.
As far as toppings are concerned, the sky is the limit. From strawberries and a little crème fresh to mangoes and pineapple, you name it and you can have it. Just don't go too far overboard with the goodies and break the 600 calorie mark.
3.) Chocolate IsaPro Peanut Butter Protein Balls
This classic Isagenix recipe is a must-have for every sweet tooth out there. Rich, crunchy, and undeniably peanut buttery, it's the perfect snack for any time of day.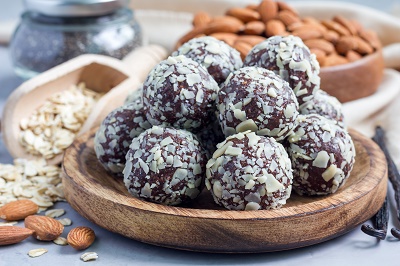 Ingredients:
• 220 grams oats
• 80 grams honey
• 110 grams peanut butter
• 220 grams shredded coconut
• One milk chocolate or dark chocolate IsaDelight
• Two scoops of chocolate IsaPro
Directions:
Combine and thoroughly mix all of the ingredients in a large bowl. Using your hands, roll the mixture into small balls and place them on a plate lined with wax paper or in a plastic container and let them chill in the refrigerator for approximately 30 minutes before eating.
That's all there is to it. Enjoy!
Isagenix-Friendly Recipes
4.) Blackened Chicken Fiesta Salad
Fresh and tasty as can be, this festive blackened chicken dish features spice rubbed chicken breasts, chickpeas, tomatoes, fresh corn, avocado, lime juice, and more, making for a super healthy and delicious dish any night of the week!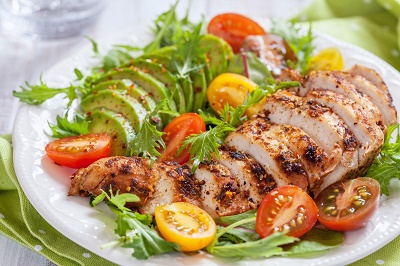 Ingredients:
For the chicken:
• Four boneless, skinless chicken breasts
• Olive oil spray
• Five grams paprika
• Five grams kosher salt
• Six grams ground cumin
• Five grams ground thyme
• Three grams cayenne pepper
• Three grams garlic powder
For the Fiesta Salad:
• Two minced garlic cloves
• 15mL fresh lime juice
• 5mL extra virgin olive
• Five grams cumin
• Pinch of crushed red pepper flakes
• Three grams kosher salt
• One can of chickpeas, rinsed and drained
• One ear of cut and cooked corn
• 10 quartered cherry tomatoes
• 50 grams finely diced red onion
• 50 grams chopped cilantro
• One Haas avocado, diced
Directions:
Start by preheating the oven to 175C. Then, in a large bowl, add the lime juice, garlic, salt, crushed red pepper, oil, cumin, corn, chickpeas, onion, tomato, and cilantro. It's a lot of ingredients so make sure to mix it well for the right flavors in every bite.
When the mixture is ready, heat up a skillet until it's smoking hot and mix together the cumin, cayenne, garlic powder, thyme, and paprika for the spice mixture. Spray cooking spray on both sides of the chicken breasts and evenly coat them with the spice rub.
Now, place the chicken breasts in the skillet and cook them for one minute per side. Afterwards, transfer the skillet to the oven and bake the chicken for about 10 minutes or until the meat thermometer reads 74C when inserted into one of the breasts.
When cooked, gently mix the diced avocado into the already prepared salad mixture, slice the chicken, and place it right on top. It's one terrific meal with 60 grams of protein and only 516 calories per serving!
5.) Cheesy Baked Penne with Roasted Veggies
A little pasta goes a long way and can give you the taste you crave and the boost you need. This baked penne dish does just that and goes great with any Isagenix program. With cheesy penne pasta, delicious marinara sauce, balsamic vinaigrette, roasted red bell peppers, zucchini, asparagus, and almost every other vegetable under the sun, it's one of the best baked pasta dishes this side of Tuscany.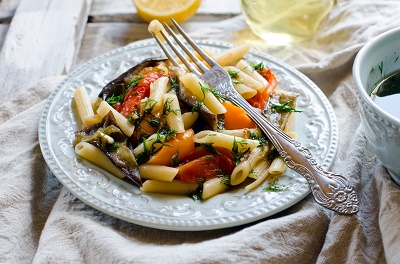 Ingredients:
For the Pasta:
• 350 grams Gluten-Free Penne
• 120 grams part-skim ricotta
• 50 grams chopped fresh parsley
• 50 grams grated Romano
• 240 grams shredded part-skim mozzarella
• One standard size jar of your favorite marinara sauce
For the Veggies:
• Olive oil spray
• One red bell pepper cut into small pieces
• One medium zucchini cut into small cubes
• One medium fennel bulb cut into small pieces
• 300 grams of asparagus cut into small pieces
• 1/2 medium red onion cut into small pieces
• Six cloves peeled and smashed garlic
• 15mL balsamic vinegar
• 15mL extra-virgin olive oil
• Three grams kosher salt
• Pinch of freshly ground black pepper
• Four grams dried oregano
• Four grams dried basil
Directions:
Begin by preheating the oven to 230C. Coat a large baking sheet with the olive oil cooking spray. Then, toss the zucchini, red bell peppers, asparagus, fennel, garlic, and red onion in the olive oil, balsamic, dried herbs, salt, and pepper. Place the tossed veggies onto the baking sheet and roast them in the oven on the lower rack for approximately 20 minutes, stirring halfway. When done, they will be tender and golden brown.
While the vegetables are roasting, add salted water to a large pot and bring it to a boil. Add the pasta according to the directions on the package for a nice al dente finish. Drain the pasta when cooked.
Then, in a medium bowl, mix the ricotta, parsley, and half of the mozzarella and Romano cheese. When nicely mixed, coat a deep 32cm x 22cm baking dish with olive oil spray and put half of the roasted vegetables into it. Then, place half of the pasta and cover it with two large ladles of sauce. On top of the sauce, spoon the ricotta mixture in an even layer and cover it with the rest of the pasta, vegetables, and sauce.
Simply finish it with the rest of the mozzarella and Romano cheese, cover the baking dish with foil, and place it in the oven for 20-30 minutes, or until the cheese is melted in a layer of gooey goodness. With so much flavour and so few calories, you'll be making this dish at least once a week!
Well, there you have it. As you can see, the menu options truly are endless with Isagenix. Feel free to share your favourite healthy Isagenix recipes with us and the world as well. Cheers!
Save
Save
Save