Isagenix Transformations & Reviews
Perhaps the most inspiring reason to start using Isagenix is the company's history of success with ordinary people. Whether your goal is to lose a certain amount of weight, accomplish an athletic feat, or just feel better about your body, there are 1000s of other Isagenix customers who have gone before you and achieved success.
Our Favourite Isagenix Reviews & Success Stories
Below is a collection of our favourite Isagenix reviews and transformations. For more Isagenix reviews and success stories from Australia and New Zealand click here.
A New Life, A New Start
Danielle A, 48, NSW
After years of unhealthy eating choices and a lifetime struggle with weight ("I have been on diets since I was 14 years old"), Danielle knew there needed to be a change.
Although her initial priority wasn't weight loss when Danielle started her first 30-day Isagenix Nutritional Cleansing Program she started noticing results within the first few weeks. "I believed that these products could help me end my struggle with my weight and health."
After only two weeks into the program Danielle began to feel amazing with increased energy levels. After her completion of the 30-day cleanse Danielle has been on fire, working out 5-6 times per week.
Feel Your Young Self Again!
Damien, 25, Qld
Damien struggled with his weight after finishing high school, until he was introduced to Isagenix helping him regain his motivation and young body!
Damien intends to continue with Isagenix and intends to maintain his weight loss success with the Isagenix Maintenance Program.
Damien now has a new level of energy and now finds he can put more energy and effort into his passion of horse riding again.
Team Effort, Team Achievements
Claudia S., 43, Qld
Before finding out about Isagenix Claudia was struggling to find a solution to help loss weight and even started to consider a serious surgery in hopes to help assist her weight loss.
Claudia and her husband were introduced to Isagenix and started their first 30-Day Cleanse Program with their goal weights in mind.
They've never looked back and plan to continue using the 30-Day program to achieve their ultimate goal that's getting closer to reality each and every day. They now share their Isagenix review with family and friends to motivate them.
The Best Time To Start Your Isagenix Transformation Is NOW!
Anne F, 50, Vic
Anne had been on the losing side of her weight loss battle for almost two decades before coming across Isagenix. Anne had tried multiple other weigh loss products and solutions without success before her brother recommended that she should try Isagenix.
She started with the Isagenix Weight Loss Premium Pack and was blown away. After only one month of using Isagenix Anne completed her goal of completing the Mother's Day Classic 4km walk. Her transformation is truly inspiring!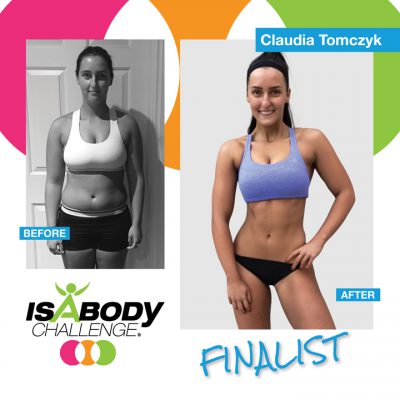 Claudia Tomczyk
Age: 23
Hometown: South Australia, AU
Weight Loss/Gain during this Challenge: Gained 1 kg lean muscle
Challenges Completed: 2
Weight Loss Overall: 10.5 kgs
Excited by the weight loss she achieved during her first IsaBody Challenge®, Claudia immediately registered for her second Challenge with a new goal of gaining lean muscle and increasing her performance in the gym. "The results I achieved and the routines I set myself up with during my first Challenge really inspired me to 'start, complete and REPEAT'," she exclaims. "This Challenge was different for me because I had a big change in focus and goals. My intention was to really take things to the next level."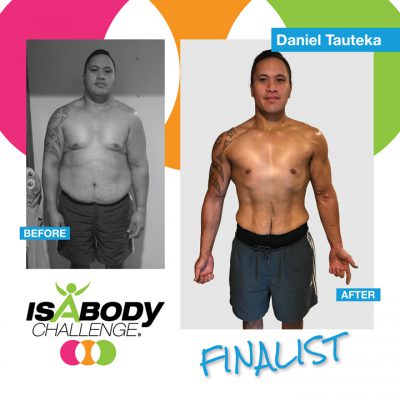 Daniel Tauteka
Age: 36
Hometown: New South Wales, AU
Weight Loss/Gain during this Challenge: Lost 36.3 kgs
Challenges Completed: 1
Before Isagenix® and the IsaBody Challenge, stress ruled Daniel Tauteka's life. Working over 60 hours a week to keep up with demand in his job, Daniel found he had little time to spend on himself and his family. "I was too busy to manage what I was eating daily, often skipping meals and making up for it later in large portions," he admits. "Even worse, when it came to the weekends, I was too tired to spend the time with my family and spent most of the time catching up on sleep."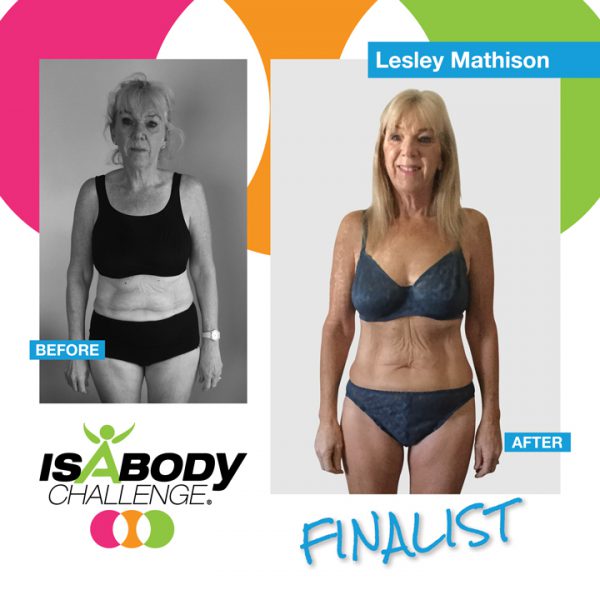 Lesley Mathison
Age: 62
Hometown: Victoria, AU
Weight Loss/Gain during this Challenge: Lost 5.5 kgs
Challenges Completed: 4
Weight Loss Overall: 8.5 kgs
After achieving incredible weight-loss results during her first three IsaBody Challenges, Lesley had a goal to improve her fitness, endurance and recovery in her most recent Challenge.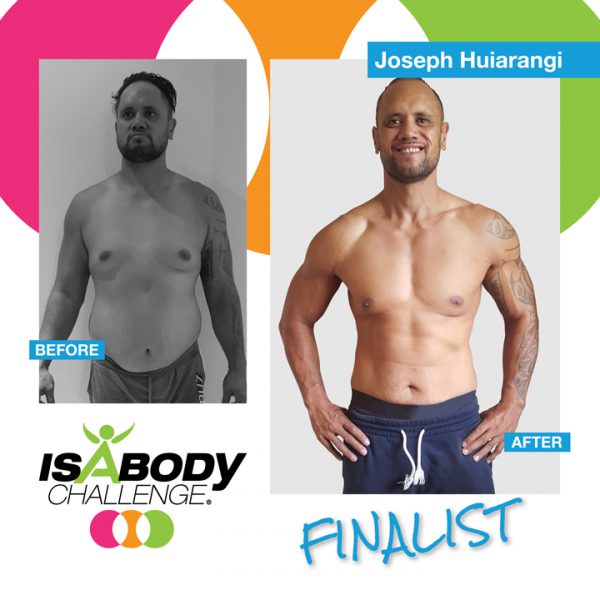 Joseph Huiarangi
Age: 37
Hometown: Queensland, AU
Weight Loss/Gain during this Challenge: Lost 15.8 kgs
Challenges Completed: 1
It took Joseph two attempts at the IsaBody Challenge before his mindset was in the right place. "I had attempted two Challenges and pulled out," he admits. "My third attempt and first completion was inspired by the 2016 IsaBody Challenge Grand Prize Winner, Sarah McMinn. I saw her continue to 'start, complete, repeat' and I knew if I truly wanted to be a leader, I needed to do the same."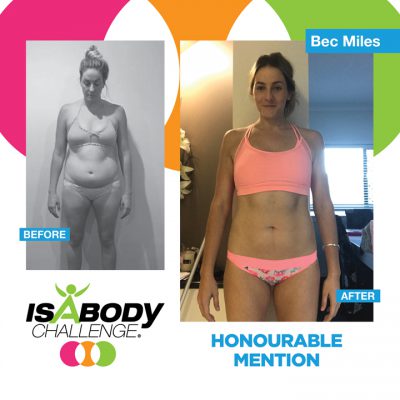 Bec Miles
Age: 31
Hometown: Gisborne, NZ
Weight Loss: 8.8 kgs
As someone who has struggled with her weight since her teenage years, Bec's relationship with food wasn't always positive. "I had tried every fad diet out there and my weight was constantly yo-yoing," she shares. "My health journey has been a whirlwind."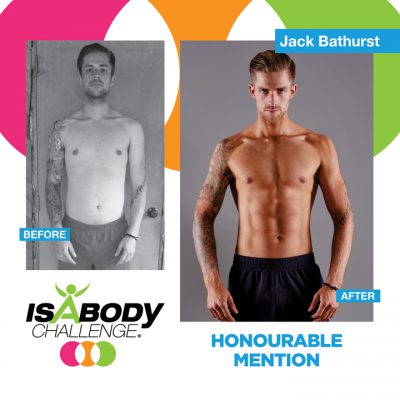 Jack Bathurst
Age: 24
Hometown: Auckland, NZ
Weight Loss: 2 kgs
Working 19 hour days on his feet often without a break was the norm for Jack Bathurst. As a chef in the hospitality field for eight years in Australia, the pressure was mounting. "Heat, intensity, stressful conditions and fierce competition was the norm," he recalls. "Being the type of person who gives 100% in everything I do, I focused on becoming the best chef I could be. It wasn't long before everything else in my life was pushed aside, including my health."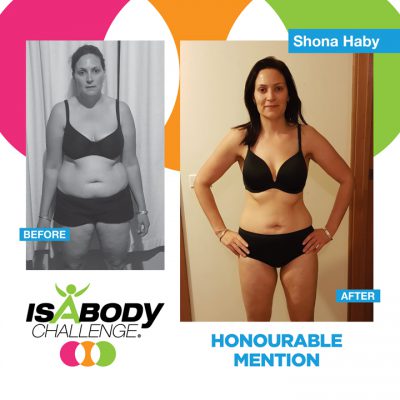 Shona Haby
Age: 33
Hometown: South Australia, AU
Weight Loss: 11.9 kgs
As a nurse, Shona witnessed firsthand the effects of what it means to make poor lifestyle choices. But working long hours and being a wife and mother of two meant that Shona succumbed to a life of poor dietary habits as a way to help her cope with her day-to-day responsibilities. "I was regularly grabbing unhealthy foods and beverages throughout the day to keep my energy levels up," she says. "The issue was though, I was feeling more lethargic and stressed as time went on."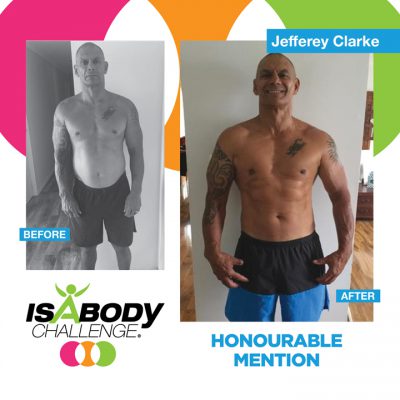 Jeff Clarke
Age: 58
Hometown: Queensland, AU
Weight Loss: 2.6 kgs
As a retired athlete, health and fitness was always a priority for Jeff. A professional rugby league player in the UK throughout his 20s, Jeff prided himself on maintaining his strength and healthy lifestyle. As he got older, although he was still strong and healthy, Jeff noticed a change in his energy levels. "My wife, Isobel, began using the Isagenix products in December 2016 and I saw a huge shift in her energy levels," he shares. "I wanted what she had!"
Isagenix has many, many more amazing stories to tell! View them all here.
* Weight-loss results may vary. In a recent study, participants averaged a weight loss of 3.2 kilos (7 pounds) at the completion of their first Isagenix 9 Day Program. Always consult your physician before making any dietary changes or starting any nutrition, weight control or exercise program. Note: If you are pregnant, nursing, diabetic, on medication, have a medical condition, or are beginning a weight control program, consult your physician before using Isagenix products or making any other dietary changes. Discontinue use if adverse events occur.
The Isagenix Transformation – Why Choose Our Products?