Isagenix IsaLean Pro Shakes
36g of High Quality Protein in Every Serve!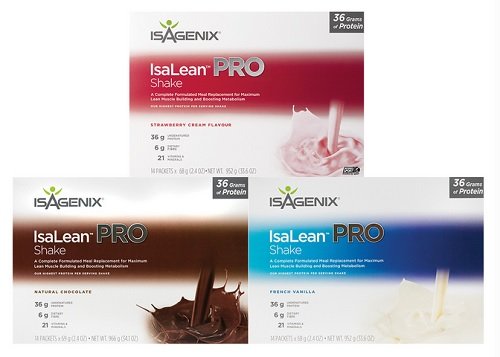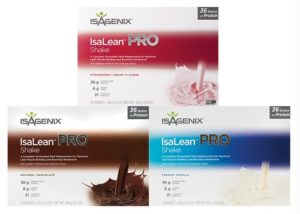 Isagenix IsaLean Pro shakes contain a whopping 36 grams of protein per serving. This is ideal after a hard workout and/or when you have no time to eat a protein rich meal and help feed your muscles for recovery and growth.
IsaLean Pro is available in 2 delicious flavours; chocolate and vanilla.
Retail Price: $90.67 for box of 14 sachets
Sign Up and Save: $68 for box of  14 sachets ($22.67 Off Retail)
All first orders come with 30 day money back guarantee! Further Info


Numerous Health Benefits
Isagenix IsaLean Pro Shakes also contain 6 grams of dietary fiber and over 23 different vitamins and minerals for optimal health. Isagenix IsaLean Pro is very popular with sports athletes and professionals, they love and rate IsaLean Pro highly! Whether you're a professional athlete, regular gym junkie, or just starting your health and fitness overhaul, try these delicious shakes today.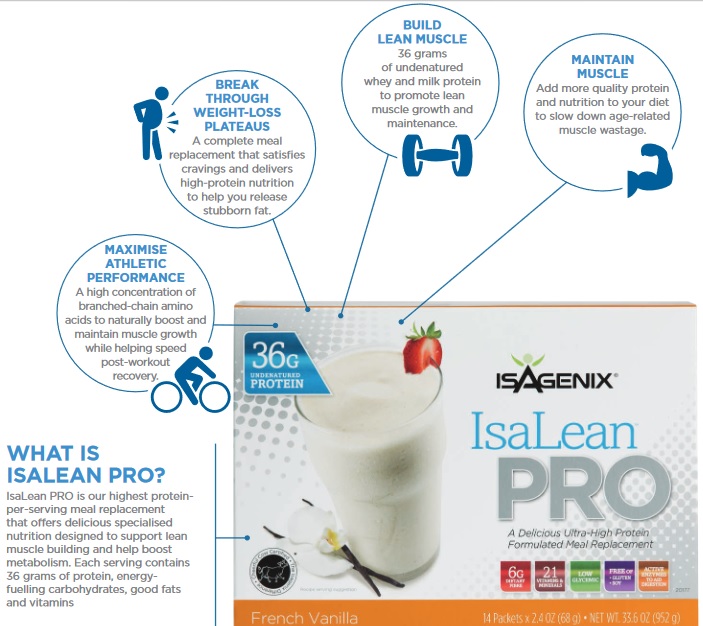 Allergy Friendly
Isagenix IsaLean Pro is gluten free & soy free, and packed into convenient portion size sachets that are ideal for gym bags and to take on the go.
Isagenix IsaLean Pro Shakes are available in French Vanilla and Natural Chocolate flavours (choose during checkout).
Product Information
What are the Ingredients in Isagenix IsaLean Pro Shakes?
For the full list of ingredients, download the following PDFs:
Want More Information?
For more information about IsaLean Pro or any of the Isagenix products in general, contact Nicole at info@isaelite.com.au.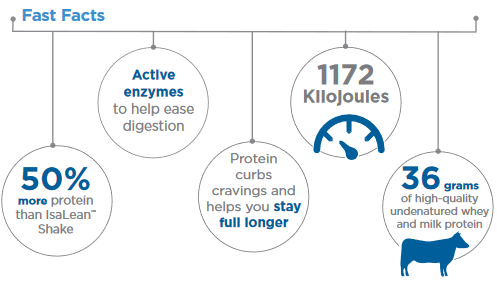 Purchasing Options
How Can You Buy Isagenix IsaLean Pro?
1. RECOMMENDED (Save $22.67): Sign up and Save ($68)
Sign up with Autoship to take advantage of wholesale prices and fast delivery from the closest warehouse in Australian or New Zealand to your doorstep. Change your scheduled order or make additional orders whenever it suits you. You can cancel Autoship via email or phone at any time with no contracts or strings attached.
2. Full Retail ($90.67)
You can purchase Isagenix at full retail price if you prefer not to sign up and take advantage of the wholesale prices.
Remember, if you are not completely satisfied with your products you can send it back for a full product refund. All products for your first order are covered by a 30 day money back guarantee, you have nothing to lose but body weight! Full details can be found here.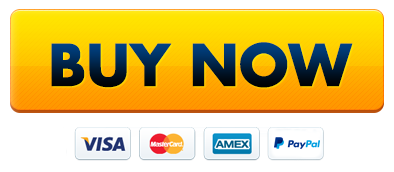 Reviews
Isagenix IsaLean Pro Shake
0

out of

5

based on

0

reviews.
Overall rating:
Save
Save
Save
Save
Save
Save
Save
Save
Save